"Lord of the Things" - legendary dungeon and update 11.0
2021-12-14
Christmas is just around the corner and update 11.0 is coming to the game. With the update, the legendary dungeon returns with "Lord of the Things" theme with new features, enemies, rewards and other changes! In addition to the news related to the legendary dungeon, the update also includes various changes and fixes for various elements of the game, such as a higher chance of getting some pets or the ability to demote an inactive guild leader by regular members. The Legendary Dungeon opens on Friday (17.12) at 16:00 CET . This dungeon will contain a lot of gold and epic items, but also lots of monsters to defeat, and most importantly, there will also be new legendary items to earn!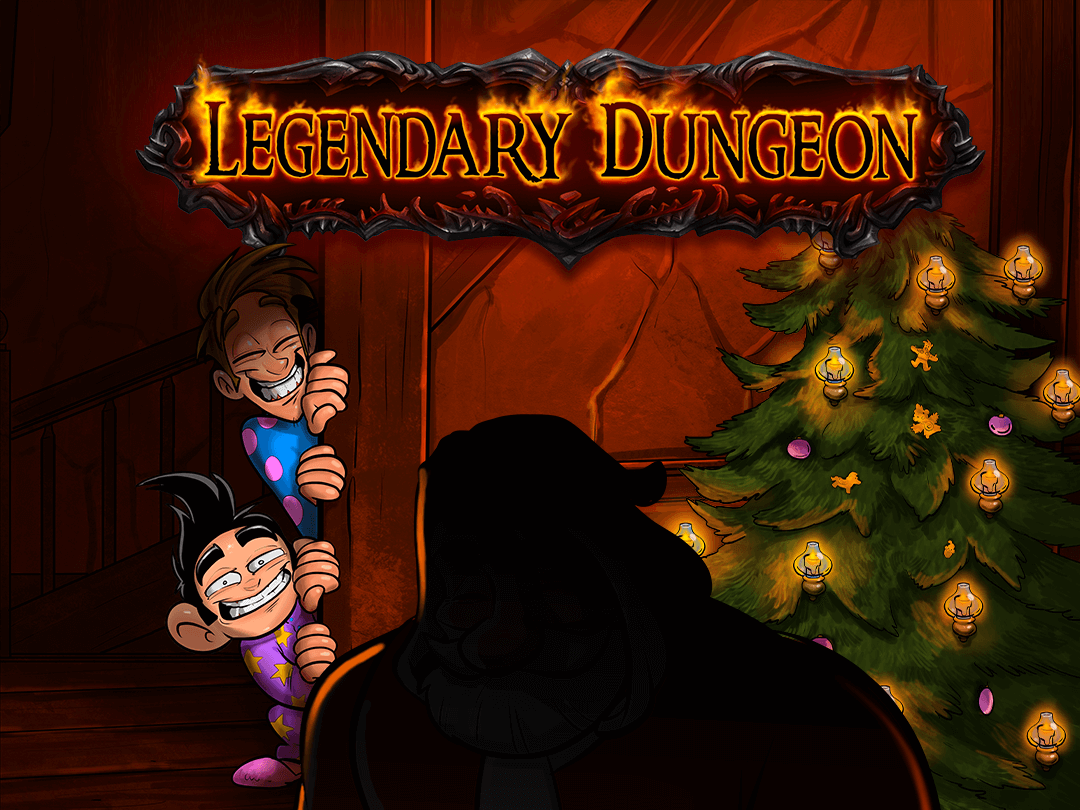 Are you looking for detailed info about legendary dungeons in Shakes & Fidget? Check here.
Here's the list of new features and changes in update 11.0
New features:
Legendary Dungeon: new environment, graphics and sounds
Legendary Dungeon: three new Legendary items
Tavern: new event combinations for 2022
Blacksmith: dragging a gem onto an equipped item with no socket opens "Add socket" window now
Options: new custom cursor for browser (optional) and Steam
Witch: new cursor states for spell scrolls
Underworld: new info window when you don't have any underworld units but are about to lure a hero
Changes:
Legendary Dungeon: the curses enemies can inflict are floor-dependent (floor 2+) now
Legendary Dungeon: you can win against the Balrog now and gain a healing
Legendary Dungeon: rebalanced monster damage and chance of blessings and curses based on feedback
Legendary Dungeon: changed artwork of monsters and rooms
Legendary Dungeon: added info that some blessings and curses are not active in boss fights
To-Do list: rephrased entries
To-Do list: "Arena Manager" ticked off if every building is level 1+
Guild chat: repositioned chat icon
Scrapbook: replaced "Walking Stick of the Grey" and "Salbadriel's Gift" (name and artwork)
Tavern: slightly decreased size of event icons
Tavern: increased chance of lucky coins during Lucky Day event
Arena: removed obsolete "Save fight" checkbox for arena fights
Pets: increased drop chance of earth pet 16 and light pet 16
Fortress, apps: improved click box of unit and gem mine buttons
Guild: inactive guild leaders (21+ days) can be demoted by regular members after 365 days now
Guild: now menu button flashes if guild pet fight is possible
Fixed bugs:
Legendary Dungeon: back button of stats is no longer overlapped
Guild chat: long links are no longer displayed incorrectly
Guild chat: received whispers by the same player are no longer merged (which resulted in an ugly look)
Character: added missing thousands separator to number of hourglasses
Character: extracting a gem no longer displays armor at gem position
Character, apps: fixed a display issue of attribute popups
Tavern: gambler no longer displays dice with event bonus after midnight
Blacksmith: fixed a display issue of "Change look" function with Legendary items
Pets: dragging fruit no longer makes them invisible
Fortress, apps: searching for gems too quickly no longer skips one search
Underworld: number of souls during Days of Doomed Souls event no longer overlaps underworld text
Guild: list of members no longer jumps to top of screen when viewing players at the bottom
Mail: messages can be right-clicked again (similar to chat)
Mail: list of messages no longer jumps to top of screen when clicking a new message
Mail: fixed a "You don't have any messages" error although you have the official S&F newsletter in inbox
Mail: subject and date no longer overlap
Hall of Fame, apps: fixed a bug with placeholder text
Wheel of Fortune: added missing thousands separator to number of lucky coins
Options: fixed "Disconnect from Facebook" function bug
Options: switching languages instantly switches all text entries now
With the launch of the Legendary Dungeon, you will be able to use a special code: n3utr4l_xmas. It should be entered at the mushroom merchant by clicking on the "VOUCHER" button. The reward for using the code is 999 lucky coins
and 50 mushrooms

. To use the code, you must be at least level 50, and the code can be entered until 27.12.
Moreover, during next weekend (17-19.12) we're having following events:
Days of Doomed Souls
souls can be found during quest
2x souls for lured players in underworld
2x souls from extractor
2x souls from gambler
2x souls from Wheel of Fortune
Tidy Toilet Time
2x mana for throwing an item in the toilet
pet Mantiflame can be found during event
Crazy Mushroom Harvest
20% more mushrooms at dealer
greater chance for finding mushrooms during quests
Fantastic Fortress Festivity
wood and stone can be found during quests
only biggest gems in gem mine
2x faster recruiting units in fortress
2x wood and stone from Wheel of Fortune
2x wood and stone from gambler
Glorious Gold Galore
5x gold for quests
5x gold for city guard during the event
+50% gold from gold pit
5x gold from gambler
5x gold from Wheel fo Fortune
pet Armoruck can be found during the event