St. Patrick's Day - special code, free beer and events
2022-03-17
Today we celebrate the St. Patrick's Day, and on this occasion, free beer, a special code, as well as other events are waiting for players.
On the occasion of St. Patrick's Day, the following events are active in the game today:
One beer, two beer, free beer
free beer in tavern for whole day
Glorious Gold Galore
5x gold for quests
5x gold for city guard during the event
+50% gold from gold pit
5x gold from gambler
5x gold from Wheel fo Fortune
pet Armoruck can be found during the event
Forge Frenzy Festival
metal and arcane splinters can be found during quests
15 instead of 5 dismantle points
2x arcane splinters from gambler
2x arcane splinters from Wheel of Fortune
Lucky Day
Lucky coins can be found during quest
40 Wheel of Fortune spins instead of 20
20 dice game attempts instead of 10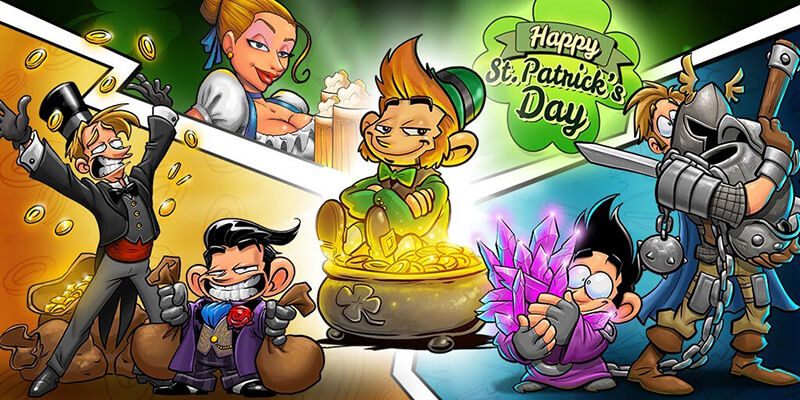 Today you can also use the special code LUCKY22 to receive 200 lucky coins

. You can enter the code at the Mushroom Dealer, in the VOUCHER tab.
In the coming weekend (18-20.03) there will be the following events:
Days of Doomed Souls
souls can be found during quest
2x souls for lured players in underworld
2x souls from extractor
2x souls from gambler
2x souls from Wheel of Fortune
Witches' dance
you can throw any item to witch's cauldron
Assembly of Awesome Animals
3x fruits from quests
3x fruits from pet fights
each pet can be fed 9 times per day
faster quests with premium mounts (quest time reduced by 0:30, 1:00, 1:30 for mounts -20%, -30%, -50%)
3x fruits fro Wheel of Fortune
Glorious Gold Galore
5x gold for quests
5x gold for city guard during the event
+50% gold from gold pit
5x gold from gambler
5x gold from Wheel fo Fortune
pet Armoruck can be found during the event